Apple Watch Band Sizes Explained: Get the Perfect Fit (2022)
How to know what size? Learn how to measure wrist size, decipher Apple's watch size chart, and even use an Apple Watch size measurement app if you don't have a ruler!
Each Apple Watch comes with a simple Sport Band, which can be made to fit any wrist size. However, the world of Apple Watch bands is as diverse as the people who wear them, and if you're looking for a Solo Loop or another band that's not adjustable, you'll need to know how to use the Apple Watch band size chart and other metrics to find the right fit.
When you plan to order a new Apple Watch band, it is important to know your case size to make sure the band's adapter is correctly fits your Apple Watch. Remember "sizing" is based on your Apple Watch case size (not your wrist size).
While the case size is engraved on the back of every Apple Watch, it is small and difficult to read.
An easier way to find your watch size is to open your the Watch app on your iPhone. Once in the app, click on "All Watches" (top left of the screen) as shown here:
In the app, click on "All Watches" (top left of the screen) as shown here:
From there, you can verify the case/watch size of your Apple Watch.
When ordering your band from us, just select the appropriate size:
Select "41mm / 40mm / 38mm" if your Apple Watch is:
41mm Apple Watch Series 7
40mm Apple Watch Series 6, 5, 4 or SE
38mm Apple Watch Series 3, 2, or 1
Or select "45mm / 44mm / 42mm" if your Apple Watch is:
45mm Apple Watch Series 7
44mm Apple Watch Series 6, 5, 4 or SE
42mm Apple Watch Series 3, 2, or 1
Measuring Your Wrist
When choosing a band, it's useful to measure your wrist as a first step. If you have a cloth tape measure on hand, you can wrap it around your wrist to get your band size. For those who don't have a cloth tape measure, you can take a piece of string and wrap it around your wrist, using a standard flat measuring tape or ruler to measure the part of the string that fits around your wrist as a watch might.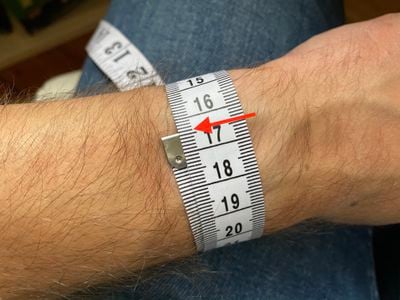 Make sure that you're using string or a measuring tape that does not have give so you can't stretch it and cause an error in measurement. If you don't have a tool like this, it's best to use a piece of paper. Cut a piece of paper into a strip and wrap it around your wrist where you might wear a watch, and use a pen to mark the paper strip where it overlaps.
When doing these measurements, make sure the tape measure, string, or paper is fit tightly to your wrist and that it is not sliding around. For all Apple Watch bands, you want a snug fit that will keep the Apple Watch against the skin for sensors to function.
If your tape measure only measures in inches, you may need to convert the measurement to millimeters to best match how Apple offers its sizing guidelines. One inch is equal to 25.4 mm, so if your wrist is seven inches in circumference, multiply by 25.4 to get 177.8 mm. Siri can provide a quick conversion for you if you need it.
Choosing a Band
For the most part, every Apple Watch band has a good size range, and you really only need to pay close attention if your wrist is smaller than average or larger than average.
Wrap bands like Sport Loops are the most forgiving in both situations, and if you have a large wrist the Sport Band and Sport Loop may fit where other bands do not. For small wrists, the Sport Loop can be pulled tight and it will offer a better fit than something like a Sport Band.
Sizing is especially tricky with the Solo Loop and Solo Braided Loop, so measurements for these watches need to be spot on. You don't need to be quite as careful with the other Apple Watch bands, but it is useful to get precise measurements to ensure a good fit.
With any of the bands, it's a good idea to go to an Apple retail store if you can for a try-on process so you can get an idea of the different materials and what they feel like on the wrist. This can be especially helpful with the Solo Loop and Solo Braided Loop because the measuring tools aren't accurate for everyone.
With almost all of the bands, the fit is true to size, but the Solo Loop and Solo Braided Loop stretch, so with these two bands, you might want to size down.